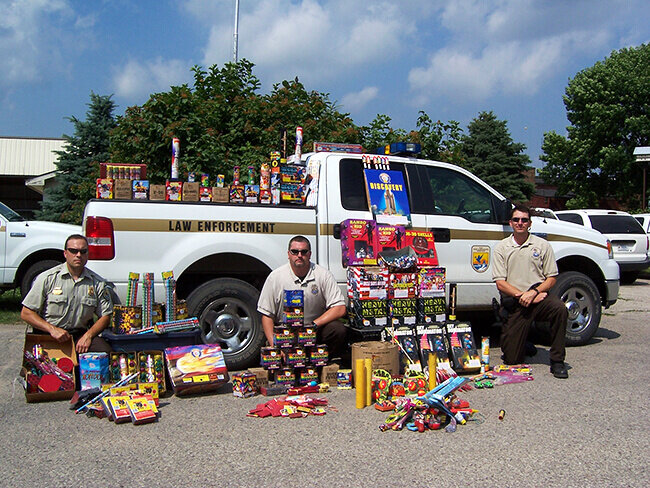 Fireworks
Fireworks offenses are a criminal charge. These come with the possibility of monetary penalties and time spent in jail.
The most common fireworks offenses are unlawful possession of fireworks and the unlawful discharge or use of fireworks.
Possession Fireworks
The local fireworks retailers usually carry fireworks that are classified as "Consumer Fireworks". The list of consumer fireworks is published yearly by the State Fire Marshall. You will find It posted at the sales stands.
Officers will use the quantity of fireworks in your possession, as the measurement that determines if you have violated the law.
You may be charged with a misdemeanor or gross misdemeanor. A misdemeanor conviction comes with a 90 days maximum penalty in jail and a $1000.00 fine. A gross misdemeanor conviction comes with a 364 days maximum penalty in jail and a $500.00 fine.
Illegal Fireworks
Include Firecrackers, rockets, M-80's, dynamite, Sky Lanterns and all homemade fireworks and others that do not follow the definition of "Consumer Fireworks" . 
Unlawful Discharge or Use of Fireworks
It is illegal for anyone to discharge or use fireworks that creates a substantial risk of death or serious physical injury to someone or damage to someone else's property. This violation is a gross misdemeanor.
Discharge of fireworks have approved dates, times and locations. Maps and instructions are available on the County Websites. You will want to verify that you will be lighting your fireworks in an approved location. You can look at the local rules at the following links.
Click Here To Learn More About Criminal Defense
Call us now…
To ask additional questions or to hire an experienced attorney who has deep connections with the local legal system.
Want To Hear More From us.
You can connect with us on social media at any of the networks below.
Sign up for the Monthly Newsletter.