2017 Educator of the Month Winners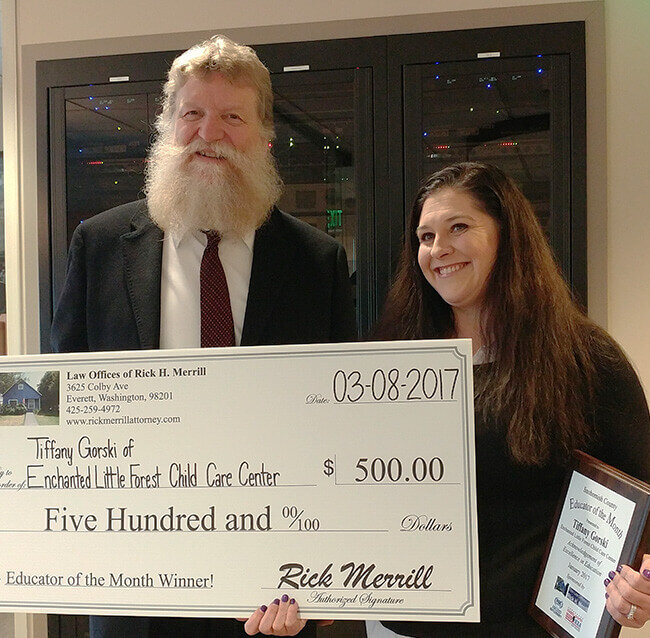 2017 Educator of the Month Winners
Rick Merrill presents the 2017 Educator of the Month award to outstanding educators in Snohomish County. The recipient receives a plaque and $500 to help defray miscellaneous expenses for the classroom.
The Law Offices of Rick H. Merrill has been a part of the Snohomish County community since 1994. It is important to Rick to support our neighbors, local businesses and schools. Rick partnered up with local radio station KXA 1520 am to sponsor a local educator each month.
Rick Merrill is recognizing our educators for their hard work and sacrifices.
January 2017 Educator of the Month Tiffany Gorski of the Enchanted Little Forest Child Care Center in Everett.
As a new parent 7 years ago I enrolled my son Skyler into ELF as a way for both my wife and I to be able to carry on our careers. As more time went by we noticed huge advances in our child. As he got older into his toddler years we took great pleasure in seeing how involved the staff was with our child which later became children.
The effort put forth by Tiffany Gorski and her family was amazing. The education and early learning for children is so important and the ELF staff was above and beyond average.
As time went by they opened a second facility and we were impressed by how much they care about early childhood development and education. They have increased their facility size and as of recent have increased again by adding another facility. They have been accredited by the state in many areas and currently have started a 1st grade program.
I have become very good friends with this family and their ability and involvement as well as their passion for the growth and development of young children. These types of educators are often overlooked and they should not be. They went to great lengths and imagination to make early childhood development a priority for the children they have enrolled.
I truly give them full credit to the advancements in my children especially my son whom is now in 1st grade in the Kent school district due to a divorce, but he is taking advanced reading, math, and has a great interest in science and I give ELF and their staff the credit because of all of the early learning activities they involve in their curriculum for ALL of the children that attend their facility.
I am truly blessed to have met such a great family and group of people that care so much about children and how they prepare them for success in education at such a young and critical time for children. THEY DESERVE THIS AND SO MUCH MORE!!! I see great things for them and the progress and dedication, love, and desire they have for early childhood development.
Nomination from Jerod C.
February 2017 Educator of the Month Paul LaGrange of the Marysville Arts and Technology High school.
I am an alumni of the Arts and Technology high school. I'm writing this 5 years after graduating. There is no way I would have graduated if it wasn't for Mr. LaGrange. In fact most students from our school would probably agree with that.
He puts in a lot of effort to see as many graduates as possible. He runs a class that helps people reclaim past classes and make up for missed credits. He truly cares. He deserves to be recognized.
I heard about this on 1520 KXA and he instantly came to mind.
Update from our Winner…
I would like to thank you very much for the recent honor of receiving the Educator of the Month reward. Additionally, I would like to inform you about how this money will be spent.
The $500 will be used to support supplies for a student created Computer repair lab.
The lab brochure can be found here.
This year alone, students have:
-sent 12 Computers to a school in Tanzania
-sent 53 computers to 2 different schools in Haiti
-sent 10 to veterans throughout the US
-repaired more than 100 community member computers
-provided free training to more than 20 senior citizens.
I am extremely proud of the great work that my students are doing and this donation will go a long way in supporting them.
Sincerely, Paul LaGrange M.Ed Instructional Design
Nominated by Howard S.
March 2017 Educator of the Month Don Ide of Lynnwood High School in the Edmonds School District.
I came to know Mr. Ide when my 2 daughters were in his class. It was a very stressful time in our lives for many reasons, and Mr. Ide always checked in with us to see if we needed anything.
Mr Ide is one of those people who has dedicated his life to helping kids prepare to be the best they can be. Mr Ide is the teacher for D.E.C.A., and is in charge of the student store. In addition to being an awesome teacher of marketing, he has done things above and beyond that have enriched the lives of the students who are in his classes.
Mr Ide has been instrumental in transporting kids to various events, exposing kids to the success stories of other people, to show them what a successful future will look like for them. Every summer, he arranges scholarships for several students to attend business camp in Eastern Washington. For many of these kids, it is the first time they get to experience life outside of Lynnwood. My 2 daughters were invited to go for 4 years, and loved it!
Every day, at the start of a class and again at the end, Mr Ide will stand at the door, shaking the hand of every student as they enter and exit the room, looking them in the eyes and asking a sincere question. It could be "What's your favorite movie", or "How are you today" and he listens as each kid answers the question.
Over the 4 years that I had kids at Lynnwood High, I heard over and over the difference Mr Ide has made in lives, because, as more than one teenager said "Mr Ide is the only one that asks me how I am, and the only one who listens to my answers." He is truly a gem who can teach all of us how to be better people.
Nominated by Patricia
April 2017 Educator of the Month Laura Breen of Evergreen Middle School in the Everett District.
Laura Breen, is an excellent Math educator for Grades 6-8 at Evergreen Middle School. Ms.Breen also, goes out of her way to communicate with parents or in my case-Grandparent.
She is the only teacher my Grandson has, that sends out "weekly updates" on the "details" that are going on in her classroom and what is expected, as the week ends along with direction in Math for the following week.
She spends her lunch breaks in her room, just in case a student needs extra help or if they need one on one tutoring, or to catch up on assignments. She will give them the opportunity to retake a test within a couple weeks for final grade book scores. Needless to say- this will improve their skills in Math and memorization. Benefiting the student in the long run by helping them retain the skills for success in their future.
She takes what she does seriously and tries to make Math fun. Her calm demeanor of teaching her students, along with her caring communication skills with parents has already been proven. My student and many others- now enjoy Math and are now getting great grades in math because of her devotion.
This kind of devotion, along with going above and beyond to teach, secures our future for success and should this should never go unnoticed…
Laura Breen, lives her life daily, with the act of…"Leaving no child left behind".
Nominated by Teresa.
September 2017 Educator of the Month Robynn Barth of Mountain Way Elementary in Granite Falls.
Robynn was new to our school last year, but has taken on the challenge of educating our kindergarten, first grade, and second grade students about everything from behavior to conflict resolution. She has brought a positive attitude to our school that helps up lift all and implement positive change.
Aside from being a full time teacher, mother, and friend Robynn dedicates her time to work with our parents group and our backpack program. Our backpack program serves students who are in need of extra food for the weekend when they are unable to receive breakfast and lunch from school.
Robynn gives herself 100% into loving and supporting not only the students of Mountain Way Elementary but the community of Granite Falls.
Nominated by Jennifer.
October 2017 Educator of the Month Marissa Nilsen of Centennial Middle School in the Snohomish School District.
Ms Marissa teaches 7/8 grade behavioral class. She never misses a day of school, even when she's sick.
She puts the kids' needs in front of hers everyday of the school year. She spends countless (non-paid) hours trying to make her classroom a successful place. Many days she comes to work in the dark, and leaves in the dark.
Many of the kids come to school without having eaten breakfast, or dinner the night before, she does what she can to make sure they get something. She realizes that they did not choose to live in a household with a destructive parent, live in unsuitable foster care and/or just choose to act up/out for no reason. She cares deeply about her kids.
Many extra things she needs in the class she gets (herself), but can't get everything. A couple years ago, some of her kids joined the wrestling team, and she saw the need to be there for them, so she became an assistant wrestling coach (without knowing a thing about wrestling) to help them with this transition with all the other kids.
She has only been teaching a few years but is quite a remarkable, caring and committed teacher.
Nominated by Lisa.
November 2017 Educator of the Month Autumn Ipock of Mount Pilchuk Elementary in the Lake Stevens School District.
Autumn Ipock is a special needs teacher at Mt. Pilchuck Elementary in Lake Stevens. She works tirelessly with her students to help them learn the way only THEY can learn. She tailors every lesson to each individual child, whether they are at a 3rd grade reading level, or still learning to use the bathroom and feed themselves.
She never complains. She truly loves her job more than anyone I know loves their job. And her job is hard. She changes diapers, had children with feeding tubes, children who cannot speak, and still she enjoys what she does so much. When she speaks about her job, you can hear the pride and excitement in her voice. She genuinely loves what she does, and it shows.
Before she was a teacher, she volunteered at a special needs preschool in Granite Falls. She is simply amazing. The amount of grace and patience this woman has is stunning. She goes in on weekends and even went in during both of her maternity leaves to ensure that her students had the best possible lesson plans and materials ready for them each week.
Autumn is the mother of two small boys. She is not only teaching them compassion and understanding, she is touching the lives of every child in her classroom.. year after year. When former students run to her and hug her with pure joy and love on their faces, you know she had touched their lives forever.
Nominated by Golden.
December 2017 Educator of the Month Aminda Gonzales of Sky Valley Education Center in the Monroe School District.
Aminda doesn't shy away from helping anyone. Everything about her glows in encouragement and a 'Can Do' attitude! Regardless of a child's learning style or their own confidence in the ability to succeed, she works with them. And after a short time, their attitude improves and they start to believe in themselves again.
She makes complicated math concepts understandable through various means, like games, manipulatives, and the use of online tools.
She is also a wonderful person outside of school. There is no difference between Aminda the teacher and Aminda the neighbor. She is an angel to anyone who has the privilege of knowing her!
Nominated by Jill R.
Nominate Today…
If you know a local educator who deserves to be recognized for their outstanding commitment to education, their countless hours in the classroom spent going above and beyond, dedication to their students educational growth, please take a moment to let Rick Merrill know…
On Your Mark, Get Set, Go
To our website www.rickmerrillattorney.com and nominate them today!
Click Here to Return to the Educator of the Month Home Page
Want to hear more from us…

You can connect with us on social media at any of the networks below.
Sign up for the Monthly Newsletter.