2016 Educator of the Month Winners
2016 Educator of the Month Winners
Rick Merrill presents the 2016 Educator of the Month award to outstanding educators in Snohomish County. The recipient receives a plaque and $500 to help defray miscellaneous expenses for the classroom.
The Law Offices of Rick H. Merrill has been a part of the Snohomish County community since 1994. It is important to Rick to support our neighbors, local businesses and schools. Rick partnered up with local radio station KXA 1520 am to sponsor a local educator each month.
Rick Merrill is recognizing our educators for their hard work and sacrifices.
January 2016 Educator of the Month Is Carrie Frederickson of Fairmount Elementary in the Mukilteo School District
I am nominating my mother for this because she has always put every effort she has into her kids in her 3rd grade classes over the years and goes above and beyond to make learning a fun experience for the kids and spends her own money to create activities and learning games and holiday parties or classroom goal parties that the school cannot supply for her, so she goes that extra mile to make school something kids look forward to everyday.
This year she is transferring schools and will be transitioning to teaching 1st grade and I think she deserves this to help with a new start to the year for all her hard work during her teaching career.
February 2016 Educator of the Month is Jaqueline Erickson of Highland Elementary in the Lake Stevens School District
Jaqueline has been teaching Kindergarten-5th grade special education students for the last 11 years.
No one cares for her students more than she does; she will routinely come home late and be emotionally exhausted because one of her students had a tough day. The amount of empathy she has is unbelievable. She is the teacher that will have the "difficult" students stay in her room because other teachers are too overwhelmed by them.
Because she is the resource room teacher, she does not have her student's all day in her class, she pulls them out for specific groups/subjects. Due to this structure, she has had as many as 45 students on her caseload at one time.
Every year she spends weeks designing and setting up a new theme in her classroom to try to make it more enjoyable for her students. She has had a movie theatre design, Cars, Dr. Suess and this year she has Never Say NeverLand based on Peter Pan. In her "free" time she started a Rubik's Cube club for kids to learn and compete solving the cube.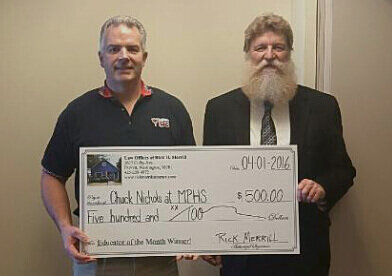 March 2016 Educator of the Month is Chuck Nichols of Maryville School District.
Chuck Nichols has been the Automotive Program Instructor for 15 years in the Marysville School District. I share the same office as Chuck and have been privileged to watch him in action for the last three years.
Chuck has lasting impact on all the students who take his class or ask him about automotive career and technical advice. Not only does he guide students through the technical and administrative requirements of the technical trades, but is able to connect the need to do well in all their studies. He follows their performance in all their classes.
He connects his curriculum to reading, writing, mathematics and personal communication. His program has become a district program available to all high school students in the Marysville School District.
Many times I have seen him work 1 on 1 with students, talking about other classes and how the skills they learn here transfer to the outside world. Chuck prepares them with the soft skills they need for employment in any workplace. He is truly worthy of recognition as an Educator of the month.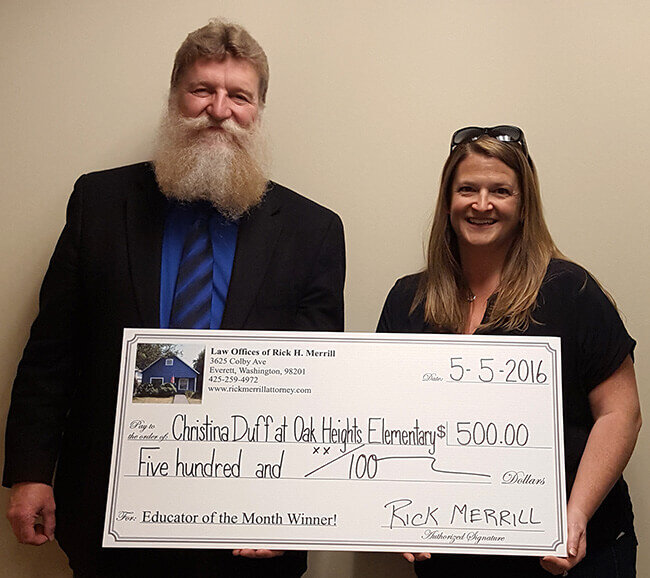 April 2016 Educator of the Month is Christina Duff of Oak Heights Elementary in the Edmonds School District.
I asked each of my two sons to tell me which of their teachers would be deserving of being nominated as teacher of the month. Without hesitation, my son Nolan answered, "Ms. Austin!" who is now Ms. Duff.
Mrs. Duff goes above and beyond to make sure that her students are learning and enjoying first grade every single day. She incorporates the necessary first grade standards in a way that creates a fun learning environment for her students.
Mrs. Duff not only taught many interesting things during his first grade year, but also helped my (somewhat shy) son in connecting him with friends in his classroom that remain good friends still two years later. She cares about kids in a way that it is no wonder that so many first graders love her so much!
My son says, "Ms. Austin (now Mrs. Duff) is the best teacher because she is very nice and cares about kids. We got to do cool science and learn about river otters. I really liked the writing workshop."
I highly recommend Ms. Austin to be a recipient of this award, she is definitely deserving!
Nominated by Jenica V.
May 2016 Educator of the Month is Band Director John Grabowski of Arlington High School.
Rick presented John Grabowski with a plaque, a great big check to display, and $500 to help defray miscellaneous costs for the classroom.
Nominations from his students.
He has inspired so many students to pursue music including myself. He convinced me to join the band in high school and I have been a wallet percussionist ever since. He is always there for any student that needs someone to talk to about life and such. He's honestly one of the most caring and compassionate teachers I've ever had…make that the most caring and compassionate.
Mr. Grabowski deserves this award because he is so dedicated to his job and helping us to excel, not just in music but in everything. He gives us advice and helps us to be better people in school and for our community. He inspires us to help others and be the best we can be.
Mr. Grabowski deserves this award because he devotes all his time and effort into the music program. He arrives at school early and leaves late every day just to help kids succeed. He is also a very motivating person to me and everyone here.
Simply put there is nothing he wouldn't do for one of his students. Every single day he arrives with great energy that we all thrive off of. Our whole band is one big supportive family full of individuals. All day, everyday we would all rather be with our band family, coming together to make beautiful and fun music.
He's an intelligent, compassionate man who treats his students as his own kids. Being in his class really has shown everyone what the meaning of family is. He connects with everyone, and is always having conversations with all the students. I appreciate him for all the time and effort he has put into teaching us music. P.S. he has the biggest band in the school district.
Being a high school band director is a selfless, thankless job most of the time… He could be directing a band much more skilled than ours, but he chooses to spend a majority of every school day with high school players, some who don't practice or don't care as much as they should. just for the chance to inspire those who realize what an amazing place the Arlington High School Band really is.
I believe he deserves this award because he is constantly helping his students achieve their goals and reach new levels with their own talents. Helping them to strive to be better not just as individuals but as a whole.
The reason Grabowski should be nominated is that he's always cheering us on when we are doing amazing or doing awful. He cares and sees this as more than a job. He sees it as his life, and we're his family. He's a great person and teacher. If anyone deserves this it is Grabowski.
He puts a ton of effort into each class. He also runs two jazz bands. One Jazz band meets zero period, every morning. The other twice a week at night. G is always there to talk to, which is great for students. He is an amazing person, musician and teacher.
G is the world's most incredible teacher,director, and friend. He gives to every one of us and we need to thank him for his kindness and compassion. How many people can say their teacher is like their dad? Not many. He deserves it (Heart)
He is awesome, a hard worker and dedicates himself to his students. Plus he takes the time to make lifelong comments that enrich the students' lives. Moreover, he never gives up on any of his students and although he is hard on all of us. He still just wants all of us to be our best. Mr. Grabowski has not only brought together all of his band members in a healthy way but, he has created lifelong friendships that will last a lifetime.
Grabowski is the best teacher at Arlington High School, mainly because he is the band teacher. He has the biggest class in almost the entire district and he puts us, the band, before himself. John Grabowski cares for us like his family and when we ever need help he is always there. It is for these reasons that John Grabowski should be teacher of the month.
He was the biggest class of the entire district and somehow manages to remember every single name and story. He takes time out of his day to make sure everyone's alright. And if there's any problems he does the best he is capable of to help. From 300 students a year who know him as "Dad".
He's the best teacher I've had. Pretty much Dad #2. He deserves it with all the kids he teaches. He would also need new equipment which is very expensive. Since he's a band teacher. We love him and he needs it.
Mr. Grabowski deserves this award because he is like a dad to so many of us. He teaches us what it is like to work hard and supports all of his students and makes them feel loved. He also works incredibly hard to make leaders out of each and everyone of us.
He has boundless energy- no matter the situation he always brings positive energy. He's always smiling and ready to help his students. He completely supports the band and the school.
John Grabowski is such a great teacher. He devotes his time and effort into spreading music with everyone which is one of the biggest sacrifices anyone can give. He has a love for music that is contagious. He is an amazing role to everyone and he deserves this award 🙂
September 2016 Educator of the Month Winner Deborah Gee of Pinewood Elementary in Marysville.
Debbie Gee is the epitome of Kindergarten teachers. Gentle, soft spoken, fun and kind.
She spends quite a bit of off work time to make her classroom fun with the resources available to her. Example, over the summer the chair reading pockets for the students were old and looked yucky. Debbie spent time cleaning them and painting them by hand. They look better than ever!
She also set up a Kindergarten Earth Day project last year. She used her own money to purchase flowers, dirt and mulch for a "Earth Day Planter Project". The project was very well received by the school and she is planning on making it a yearly event. She is very involved with the PTSA and is co-chair for the Teachers this year.
Debbie Gee is amazing and is often referred to as a "favorite teacher", and I cannot think of a better candidate for Teacher if the Month.
Nomination written by Melissa E.
October 2016 Educator of the Month Winner, Bradley Nelson of Lynnwood High School in the Edmonds School District.
Brad Nelson is an amazing teacher and robotics coach. He works tirelessly through the robotics season, putting in hundreds of hours outside of the school day to coach and mentor kids through the engineering process. During school hours, he teaches robotics and keeps the school IT systems on track.
His goal is to teach the kids in such a way that they learn the CAD program, the engineering process, the building, the leadership, and can have a student-led team that trains the kids in all areas needed on the team.
He has been coaching the robotics team for 8 years, and they have made it to the World Competition 4 of the last 5 years. I have had two sons under his teaching, and see the results in their lives. He also puts in hundreds of his own dollars for the class and the team.
Thank you for considering this great teacher and coach.
Nomination written by Mary Johann
November 2016 Educator of the Month Winner Tracy Orr of Cross Roads High School in the Granite Falls School District.
Please enjoy these nominations
Tracy Orr is such an amazing hard working educator. She does not only go above and beyond, but truly cares for her students. If it weren't for her I know many others who would have given up.
She's 110% for her students well being, always. No one more deserving. She actually helps you understand what you don't get. She makes you want to strive to succeed. She is such a caring teacher. Mrs. Orr goes out of her way to make sure her students get the help they need. She never gives up on students and accepts each and every one of us for who we are.
I would not have graduated, let alone on time, without Mrs. Orr. She was the reason I didn't give up on school.
Mrs. Orr goes above and beyond to make sure you understand the course material. Math is difficult for a lot of students and she will teach it to you in as many different ways as she knows, just so everyone can be on the same page and not be miserable. She also stays after school several days a week to help struggling students earn the math credits they didn't get in previous years. Mrs. Orr is the best kind of teacher there is, she's bubbly, intelligent, caring and above all, she takes pride in helping her students succeed and strive to be better at math and in life.
She goes above and beyond what is needed to ensure the success of her students. In my personal case, she is the only reason I graduated. She stayed on my case about my grade and would offer her own time to tutor me and make sure that I did what she believed possible for me to do. She's more than just a teacher, she's an amazing friend and an inspiration showing me that there are teachers who are in this field solely because they want to help the world blossom into a beautiful place.
December 2016 Educator of the Month Michelle McDermott of Skyline Elementary School in the Lake Stevens School District.
My son has been a student in her class for the past year. He was diagnosed with Autism in June 2015 and was really struggling in a general education class. Since starting in her class, he has made so much progress!
She is super friendly and welcoming to both parents and students. She provides the students with learning activities that help them develop life skills that they can use as they get older including shopping trips to the grocery store to purchase items for class cooking projects.
Her classroom environment is very organized which helps her special needs students be successful and responsible learners. She is committed to furthering her education through attending workshops that help her provide her students with interesting and challenging learning experiences. She wants the best for all of her students which shows in her interactions with them.
She also shares what she learns in workshops with the parents of her students. She does a great job of communicating with me the special little things my son does on a daily basis.
I could go on and on with the list of reasons why she deserves to be teacher of the month but I think I can best sum it up by saying her care and compassion have changed my son's outlook about going to school. I am so thankful that she is part of our lives! During the summer, my son attended a Y magic camp and at the camp's final performance of a magic show, she was able to come watch. When he saw her after the performance, he went running over to her and gave her a great big hug which brought tears to my eyes.
Anyone can teach academic subjects, but it takes a special teacher, like Michelle, to touch a heart and help change a little boy's life!
Nomination from Lauri
Click Here to Return to the Educator of the Month Home Page
Want to hear more from us…

You can connect with us on social media at any of the networks below.
Sign up for the Monthly Newsletter.